Air Conditioning Service
Local, professional air conditioner servicing
Don't wait until your air conditioner stops working before you do anything with it. An air conditioning system should undergo regular maintenance and servicing, much like vehicles. If you don't look after them, they will end up costing you more money in the long term or possibly stop working at the worst possible time.
Fallon Solutions air conditioning service department will discuss the best option for your situation and will then take care of everything else. You won't need to remember when it's due as our admin staff will contact you at the agreed time to organise a time for the air conditioner service. We cover both split system and ducted home and commercial air conditioning servicing throughout Brisbane, Logan, the Gold Coast and Ipswich.
Does your business require routine aircon servicing?
Are you a business that relies on keeping happy staff and happy customers? If you are, then ensuring you have year-round comfort in your commercial premises is paramount to your success. Scheduling regular air conditioning servicing - ducted or split systems - not only ensures that your equipment is in good working order, but it can save you money in the long run.
What does a comprehensive air conditioner service involve?
Each air conditioning system service will vary slightly but most will involve these basic checks as well as any extra maintenance our experienced air conditioner technicians find.
clean filters,
check gas levels,
check that heating and cooling functions are working,
check the airflow,
check all functions of the air conditioning are operational,
check the electrical connections,
check the outdoor units and in good working order and that the fan is operational.
Our technicians also offer specialist air conditioning deep cleaning services to remove dust, mould, and allergens from your aircon system.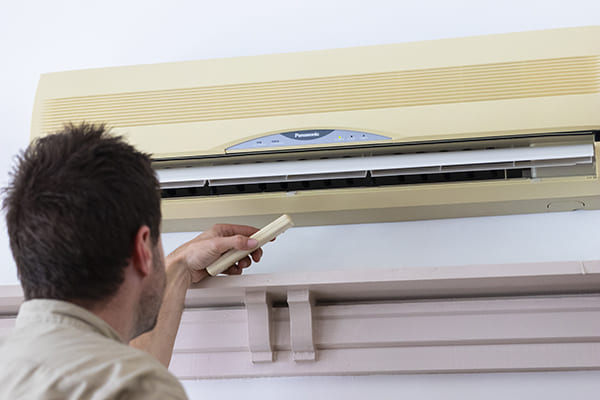 Air Conditioning Tip

Did you know a regular air conditioner service means that it will perform better - meaning better energy efficiency and saving you money!
Air conditioning service examples
Brands of Air Conditioners we Service
Accent Air Conditioning
Agree Air Conditioners
Airwell Air Conditioner
Alcair Air Conditioner
Bonaire Air Conditioners
Bradway Air Conditioners
Braemar Air Conditioners
Breezair Air Conditioners
Convair Air Conditioners
Cool Breeze Air Conditioners
Electrolux Air Conditioners
Email Air Conditioning
Gree Air Conditioners
Haier Air Conditioners
Hitachi Air Conditioning
Kelvinator Air Conditioner
LG Air Conditioner
Maytag Air Conditioners
Phoenix Air Conditioners
Polar Air Conditioners
Samsung Air Conditioning
Sanyo Air Conditioning
Sharp Air Conditioning
Toshiba Air Conditioner
Westinghouse Air Conditioner
Winia Air Conditioners
Fallon Solutions Air Conditioner Service
Our team can service both domestic and commercial air conditioning systems at a time convenient to you or your business. Call our friendly team and book an air conditioning service today on 1300 054 488 .
AIR CONDITIONING FAQ