Daikin Air Purifiers
Improve indoor air quality with Daikin Air Purifier
Would you like to improve the air quality in your home? Daikin's new range of Air Purifiers with Streamer Technology can help you breathe easy. They're designed to capture, suppress and break down pollutants such as mould, pollen, allergens, odours, formaldehyde, traffic pollution and dust. And they come with the National Asthma Council's Sensitive Choice® program approval – so you know they're good for your health.
With a sleek design that fits seamlessly into any room, these purifiers are a great addition to any home. Plus, they have a variety of smart features that make them easy to use. So why wait? Combine your Daikin air conditioner with a Daikin Air Purifier today. Speak to a Daikin expert today.
Get a Daikin Air Purifier Now
Daikin Air Purifiers Models
Air purifiers are great to improve indoor air quality. They are ideal for people suffering from asthma, hay fever or allergies and can help you stay comfortable indoors. We are spending a great deal of time indoors and could be exposed to high amounts of pollutants. These pollutants can aggravate asthma or allergies but also cause lung-related diseases.
Air purifiers are a reliable way to get rid of indoor pollutants and are worth adding to your home.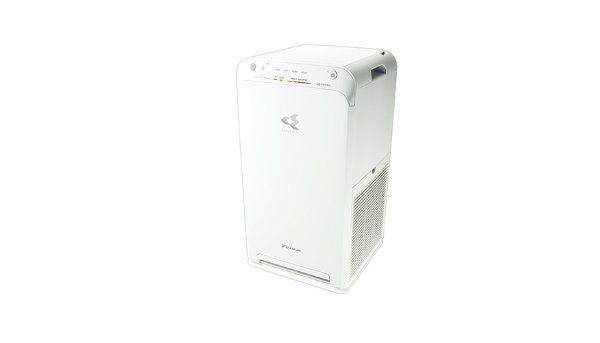 Fallon Solution is an authorised Daikin Specialist Dealer and we stock all models of Daikin's air purifier. Purchase a Daikin air purifier today.
Click here to learn more - Benefits of Air Purifiers
Features of Daikin Air Purifiers
4 layers of filtration to capture large particles, removes 99.97% of fine particles, removes odours, bacteria and formaldehyde through oxidative decomposition
Triple Detection Sensor – dust, PM2.5 particles and odour levels are displayed on the top of the unit for live monitoring
Whisper-quiet operation – with sound levels as low as 19dBA
Anti-pollen mode – creating gentle air turbulence from fan speed modulation, pollen is trapped by the air filters before it settles
Built-in humidifier – 3 settings with humidity targets between 40-60% (MCK55YPVM only)
Wireless Remote controller included with MC(K)55YPVM
Sensitive Choice Approved
Find out more about the Daikin Air Purifier range and features here - Daikin Air Purifiers Streamer Technology brochure
Take advantage of a Daikin Air Purifier today
Purchase a Daikin air purifier today, give us a call on 1300 054 488 or complete our online enquiry form abover.
AIR CONDITIONING FAQ