Split System Regas
Home air conditioning regas Brisbane & Gold Coast
Your air conditioner if installed correctly should never need to be regassed. However, due to poor installation, human error and weather conditions your system may develop a refrigerant leak. Fallon Solutions air conditioning technicians can carry out a complete diagnostic evaluation of your unit to find out if the aircon gas what is causing your issues. Our team can provide repairs and regassing if needed to get your system back up and running again in no time.
Air Conditioning Regassing Enquiry
How to tell if your house aircon needs regassing
There are a few tell tale signs that show your air conditioning could need regassing. These signs are also an indicator that your air conditioner is not functioning properly. This could be due to faulty parts or installation and may need repairs not regassing. These signs can include:
Never cools: If your air conditioner is on all day or seems to push warmer air out then the temperature set it often means that your refrigerant is low. Without the correct amount of refrigerant your system can no longer absorb the heat in your home.
Icy piping: When your system runs with low amounts of refrigerant the system itself can actually freeze. The ice can then block the airflow which reduces the air being pushed into the room.


If bad enough, the ice can freeze the refrigerant lines which ican be clearly visible by ice blocks being wrapped around your condenser piping.
Strange sounds: If you hear hissing or a bubbling noise from your system this typically indicates a large leak within the system. It is strongly advised that if you are experiencing this you turn your system off immediately and call

1300 054 488

.
Having regular or scheduled maintenance carried out on your air conditioning system throughout the year can help to reduce if not stop any issue before they even become a problem.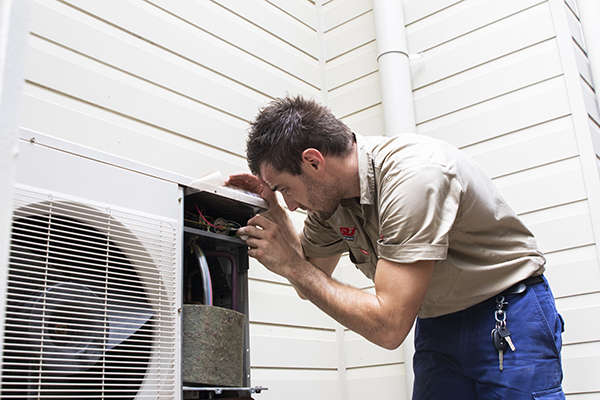 Regas air conditioning unit
Most people relate their air conditioning system to their car's air conditioning unit. Whilst they both cool the air the differences are quite dramatic.
A car's air conditioning unit is subject to many different elements such as road vibration, varied weather conditions, and temperature changes in the engine bay. These elements can take a toll on the plastics used in your car's air conditioning unit and thus will require regassing over time.
Home air conditioning systems are not subject to the same elements or variables nor do they use plastic fittings or connections. If installed correctly the air conditioning gas in your home aircon should last the life of the system itself without needing a top up.
When regassing a homes air conditioner a good technician will be sure to find and replace where the refrigerant leak is prior to regassing the system to its recommended temperature/pressure.
Air conditioning regas refrigerants
When it comes to regassing a system that has suffered a leak our technicians will determine what type of refrigerant your system will need. This is generally indicated on a sticker located on the side of the air conditioning condenser unit. The common types of refrigerant are:
R22: Known as Freon is a prohibited substance. From 2020 only recycled R22 refrigerant will be able to be used in existing R22 systems.
R32: This refrigerant has 3 times lower GWP and R410A and as a result has been adopted by leading air conditioning manufacturers such as Daikin.
R410A: Known as Puron has taken the place of R22 in air conditioning systems as it is a superior refrigerant to R22.
Air conditioner regas cost
The reason behind your air conditioner losing refrigerant will determine how much it will cost to regas your system. Due to air conditioning systems requiring repairs or maintenance prior to being able to be regassed it is impossible for any air conditioning company to give you price.
Air Conditioning regas experts
When it comes to knowing your system, no one will know it better than a Fallon Solutions air conditioning technician. Our technicians have worked with every brand that is currently on the market and have updated training with any new system that is released. For the best quality and regassing solutions contact our staff today on 1300 054 488.
If you prefer to book a technician right now you can also fill the online service request form above and one of our staff will contact you in regards to your aircon.
AIR CONDITIONING FAQ