Electrical Contractors
Professional electrical contractor
Fallon Solutions have a team of Master Electricians for all your commercial electrical needs. We offer one of the most extensive electrical services throughout south east queensland with over 50 service vehicles on the road at any time. All our electrician team are fully qualified and licenced and receive regular training to ensure they are always up to date with the latest developments in the industry.
Electrical Contractors Enquiry
No job too big or small
Our electricians regularly undertake projects large and small from fitting a few power points through to the installation of electrical and data systems on multi-storey office buildings. So no matter what your job, we can help.
Electrical services we offer
Our highly trained electrical team hold all the required insurances and licenses to be able to perform a broad range of services such as:
Ceiling fan and power point installation
Install or alter a switchboard or RCD
Install a split system and ducted air conditioning systems
Maintain a processing plant
Install or alter electrical wiring or fixed appliances in a building
Install and repair high-voltage power lines
Provide power and electricity to buildings and structures
Integrate telecommunications, fibre optics, and security systems
Fast, efficient service
Being one of the biggest electrical companies in South East Queensland means we have a large number of licenced electricians available at any time. This allows us to respond quickly to faults or breakdowns to limit your businesses downtime to a minimum.
We can provide an electrical contractor to you, 24 hours a day, 7 days a week, 365 days a year.
Why use an Electrical Contractor
When it comes to having electrical work conducted on your home or business you want someone that is correctly licenced and insured to carry out the work you require. Both an electrican and electrical contractor can perform electrical work however, it is only an electrical contractor that can contract their services as an electrician.
There are two different levels of electrical contractor licences. Whilst both allow electrical work to be conducted the type of electrical work that can be conducted is subject to the electrical contractors licence level.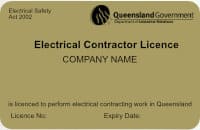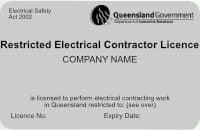 Gold: This licence allows the electrical contractor to perform all types of electrical work from installations to the wiring of electrical equipment.
Silver: These licences are restricted to only testing, maintenance and repair of specific electrical equipment up to a certain voltage which is indicated on the licence.
Who is able to hold an electrical contractors licence
Typically an electrical contractors licence is obtained by a current fully qualified electrician. The electrician will undergo further study and examinations that cover things such as insurance cover and reporting in order to gain an electrical contractors licence.
Fully licenced and insured
While electrical contractors and electricians both hold specific licenses, only electrical contractors hold the required insurances to properly and safely operate a business. Their insurances protect their employees, the homeowner and business owner from any insurance liabilities.
There is a difference between an electrician and an electrical contractor; however, the two professions are related. The differences dictate who can complete your electrical work. An electrician is not legally allowed to carry out electrical work on their own behalf, nor can they charge people for the work done. An electrician can however, carry out electrical work when working for a company which holds an electrical contractors licence.
An electrician is responsible for installing and repairing electrical equipment and systems. An electrical contractor is an individual or business that employs a variety of workers including, but not limited to, electricians. Electrical contracting firms generally specialise in larger projects, as well as smaller jobs.
The electrical contractors you can rely on
Fallon Solutions electrical contractors can complete specialist projects, large and small. Contact our team on 1300 054 488 or complete our online service request today.
Why should you use Fallon?
There are many reasons you should use Fallon Solutions Master Electricians for all your electrical and data work.
We have been in business for over 60 years. Our growth and success have been due to our loyal customer base, meaning we understand how important it is for great customer service.
We are fully licenced and insured.
Our electricians receive regular training to ensure they are up to date on the latest practices
We have over 50 vehicles on the road with GPS tracking. This means we can react quickly to emergency needs.
We provide other trade services as well, so if your job requires several trades, we can do it all.
Our head office handles all job bookings and enquiries, allowing our electrical team to do their work without interruptions.
All trade vehicles carry a wide range of common components to alleviate the need to go and buy them, thus wasting time and money.
ELECTRICAL FAQ