Commercial Electricians
Reliable commercial electrical contractors
Fallon Solutions is proud to be one of the regions' largest commercial electrical contractors. We have been operating since 1962 and in recent years, our expansion has enabled us to broaden our service areas to include:
all Brisbane suburbs,
west to Ipswich,
north to Caboolture,
south to Bayside and Beenleigh,
and the Gold Coast.
Commercial Electrician Enquiry
Commercial Electrical Contractors - we can be there today
With a fleet of over 100 service vehicles and employing a permanent staff of around 200 personnel, including qualified and experienced commercial Electricians; we can be there today! By carrying a team of this size, means we have numerous service people on the road at any time.
Commercial Electricians - we cover all businesses
Our commercial electricians are an experienced team of professional, master electricians who are available 24/7 for the all commercial clients, including:
Body Corporate's
Real Estates
Clubs
Retirement Villages
Facilities Management Companies
Builders
Bakeries
Retail outlets
Wholesale outlets
Architects
Medical practitioners
Professional practices
Shopping Centres
Restaurants
Fast Food outlets
Franchises
Gyms
Schools
Service Stations
Project Managers
Trade Service Providers
So if you are in business and need commercial Electrical Contractors you can trust, give us a try.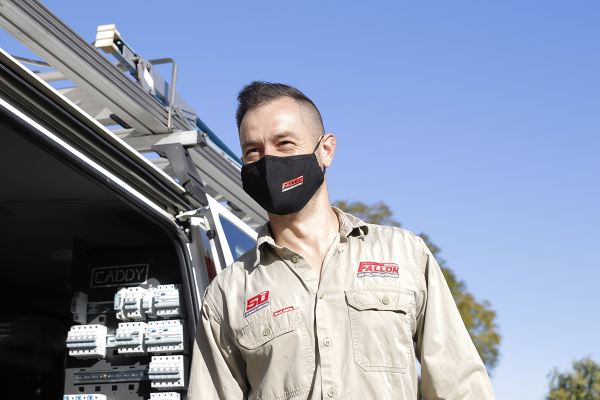 24 hour emergency electrician
We know that sometimes faults and difficulties don't conveniently occur during standard business hours and sometimes you need commercial Electrical Contractors out of hours. To cover this, we are on call 24 hours a day, 7 days a week, 365 days a year. For any after-hours emergency, simply call 1300 054 488 our all areas business number which diverts to a choice of four emergency tradesmen. Choose the option for an emergency electrician , and you will have immediate access to a qualified Electrician.
Our commitment to you is to provide the highest standard of workmanship and fast service, around the clock. We can ensure your business experiences only minimal downtime or inconvenience.
We cover all commercial electrical services
Fallon Solutions commercial Electricians cover all electrical services your business will need. Some of these electrical services are:
Contact our team on 1300 054 488 or complete our commercial electrician booking request form today.
ELECTRICAL FAQ