Electrical Inspections
Residential and commercial electrical safety inspections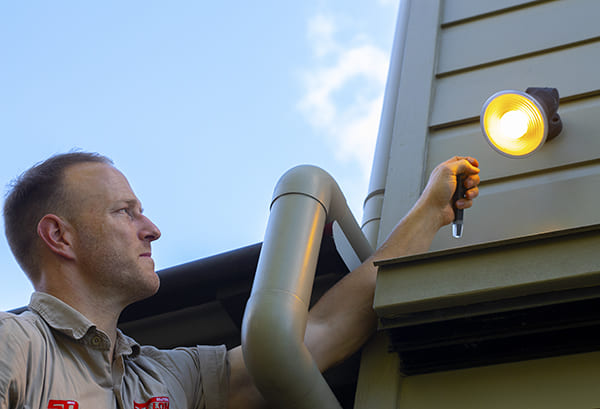 Regular electrical inspections will help ensure your home or business is electrically safe protecting your family or workers. Our experienced electrical team offer comprehensive electrical inspections for any sized house or building.
Electrical Inspections Enquiry
Why should I get an inspection?
There are a number of reasons why you should have electrical inspections done regularly. The most important reason, of course, is safety. Generally speaking, without regular thorough electrical inspections, the first sign that there is something wrong is when there is a major problem, like a fire or an electrical accident.
By having regular electrical inspections you can reduce the chances of disasters occurring.
If you are an employer, under the Occupational Health and Workplace Safety Act you are required to provide a safe workplace for your employees, meaning that you are legally obliged to make sure that you have done everything you can to ensure their safety.
What will happen during an electrical inspection?
It all depends on what you are having tested. Our electricians will check appliances and switches to ensure that there are no faults. They will make sure that all powerpoints are safe, the safety switch is operating correctly, as well as reviewing any other electrical systems in your home. Our team will then report on any aspects which need repairs or attention.
Please Note: To perform a proper inspection, they will need to turn off the power to your house or workplace and will need access to all areas.
Why should I use Fallon Solutions?
We have a large team of qualified electricians who can be at your place in no time flat in a fully stocked van. They will provide you with a comprehensive inspection and talk you through what might need to be done in layman's terms. We pride ourselves on our speedy, professional and friendly service.
Pre Purchase Electrical Inspections
Written report mailed or emailed to you within three working days from when the inspection is done.
Licensed, qualified Master Electrician performing the inspection from our team of electricians
Fully itemized quote to rectify faults so you can negotiate a better buying price
Assurance all inspections are carried out by the Master Electrician
Knowing you won't have any extra surprises when looking at doing electrical improvements to your new home
Save Big $ for a small investment
Contact our office administration team and they will dispatch the closest member of our large team out to you without delay. Because we have such a big and widespread team of fully qualified accredited master electricians we can be there quickly.
ELECTRICAL FAQ