Electrical Thermal Imaging
Electrical safety in your business and home
Fallon Solutions offers Electrical Thermal Imaging, one of the most effective preventative electrical maintenance measures for your home or business. This form of electrical inspection can instantly identify dangerous areas in electrical switchboards, appliances, machinery and wiring which can potentially cause equipment failure or fires.
Electrical Testing Enquiry
How does electrical thermal imaging work?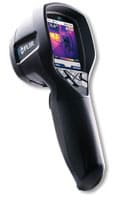 Electrical Thermal Imaging detects temperature changes in electrical components in switchboards and electrical infrastructure.
It works using a specialised infrared camera to measure heat in the wiring of electrical components and connections. The thermal camera creates an image of the heat providing our electricians with an immediate picture of how the systems are working and any area's of high resistance across a connection which can result in excessive heat and possible failure, or in extreme cases fire. Changes in heat are represented by a colour scale on the thermographic image.
Thermal imaging uses the latest technology in scanners which can detect electrical faults often missed by traditional methods of testing.
Benefits of thermal scanning for electrical systems
Minimise the occurrence of fire caused by electrical faults
Reduce the chance of equipment failures
Quickly identify potential problems
Minimise downtime for the business
Accurately identify the site of the issue so repair can be specific and targeted
Assists with insurance compliance requirements
Boosts workplace safety measures
Issues can be detected and repaired before problems occur
Thermographic survey
We recommend routine thermal scanning of electrical switchboards is included in your home or business annual maintenance program. A detailed Thermo Graphic Inspection Report can be produced in which you will receive a clear account of:
specific equipment and switchboards inspected
any areas of concern including failing components
the extent of the defect
specific temperature variations recorded
proposal for repairs needed, prioritised in order of urgency.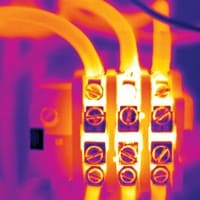 Your local electrical safety specialists
Fallon Solutions experienced, accredited Master Electricians can carry out electrical thermal imaging in your home, workplace, or business. Our electricians receive up to date training in electrical thermography to ensure accurate diagnosis of the data collected. Assessment during peak workload will allow our Master Electricians to determine issues and enable scheduling of any repairs needed during off-peak times.
Contact Fallon Solutions today for Electrical Thermal Image Testing or call on 1300 054 488 .
ELECTRICAL FAQ