Safety Switch Testing
Professional electrical testing service
Fallon Solutions master electricians can carry out the professional testing of your home or businesses safety switches to ensure they are in correct working order. It is imperative that your safety switch works fast in an electrical emergency.
Safety Switch Enquiry
Why do I need to 'test' safety switches?
Safety switches need to be tested regularly to ensure the mechanism works freely. Over time dust, debris and moisture can build up in your switchboard causing the safety switch to slow or cease altogether. Our master electricians recommend testing should be carried out every three months.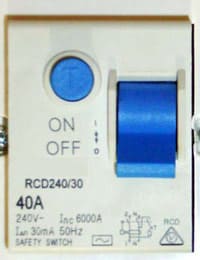 Home test
You can test your home safety switch yourself by simply pressing the button marked 'Test' or 'T'. The safety switch should trip, turning off the power to the power points around your home. To reset the switch push back to the 'On' position. If the switch will not reset we recommend calling a licenced electrician to assess the issue.
Safety switches on all circuits
Fallon Solutions master electricians recommend the installation of safety switches on all home electrical circuits. At present only the power point circuit is required by legislation to be fitted with a switch, to fully protect your family from electrical accidents we advise each circuit is fitted including the hot water system, air conditioning, oven, lights and pool. Find out more - Safety Switch Installation
Why use Fallon Solutions to carry out your safety switch testing?
Fallon Solutions have licensed electricians who can carry out the testing in accordance with the government legislation. Fallon Solutions have over 60 vehicles on the road so you can be assured we'll be on time and carry out the work in a professional manner. We can also set up regular monitoring programs for your business to ensure you stay compliant with legislation time frames for the testing and tagging of equipment.
Contact our team today on 1300 054 488 or complete our online booking form today.
ELECTRICAL FAQ