It All Started With... Neil T Fallon | The Fallon Solutions story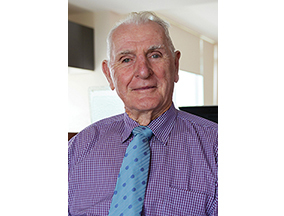 Published: April 16, 2019 Last Updated: March 16, 2022
Fallon Solutions began when Neil T Fallon started out as an electrical contractor in Brisbane in 1962 at the age of 21. Over the years an excellent reputation was earned for domestic, commercial, and industrial electrical services as well as appliance repairs and data cabling. Neil retired in 2005, passing the business to the current management team. Since then, Fallon Solutions has evolved, and our team has grown to over 150 staff members who continue to provide first-rate service, whilst upholding the reputation and traditions developed through the years.
We recently caught up with the man who started it all: Neil T. Fallon. We asked him about the company's heritage and history, the early days in his career as an electrician and he reveals how the company successfully evolved and grew.
Neil, tell us more about your path to becoming an electrician
Neil: When I was an apprentice, I started with an electrical company called Jack Delaney in Cannon Hill. On my first day of work I went out with a guy and we wired a house in Beenleigh. One day later Jack and I drove out to Mount Gravatt to wire another house. He dropped me off with all the gear that I needed and said: "Righto, I'll pick you up at 5!" He jumped in the car and left… I didn't have any breakfast, morning tea, or lunch and I worked all day and did all the cables neatly.
Did you complete your apprenticeship with Jack?
Neil: Yeah, I did. In my second and third years of my apprenticeship, we started building switchboards in the workshop and we also repaired tools the techs brought in. I remember one day Jack said: "We've got a big switchboard to do" and I asked him how big it is. And he said, "It's Channel 10's switchboard in Toowoomba." So, in my third year of being an apprentice, I wired a 25m long, 3m high switchboard. Then Channel 10 had the engineer come and check the switchboard and he said that he's never seen a better job in his life.
How long was it between you finishing your apprenticeship and starting your own business?
Neil: One day. I finished my apprenticeship on a Friday and on Saturday I started my own business.
Was your company involved in the flood clean up in 1974?
Neil: Yes, we were. I had about 20 vehicles (with an apprentice in each truck) and we did nothing else but help customers who were in need in West End, Annerley, Yeronga, Moorooka, Graceville and all along the river. We'd just go along the street and disconnect the power for people or give them the power to the switchboard, at least for a power point.
Do you think Fallon has changed since you sold the company?
Neil: Since I've retired in 2005, the company has changed a lot, especially in size. There are now plumbers, carpenters and other trades that I wouldn't have thought to bring in.
When you see a Fallon van now, how does that make you feel?
Neil: It's good to see the vans around and I like to introduce myself. One time I walked through Yeronga and a Fallon truck was parked with an electrician sitting in the driver's seat. I knocked on the door and as a joke, I asked her: Excuse me, how did you get into my truck? She was surprised and said: I work for Fallon! I've done it quite a few times and their reaction is always the same! I kept in touch with many of the staff that stayed on after I retired, so I guess you could say I've never really felt that far away from the business. It has all grown so much with plumbers, carpenters and other trades that I wouldn't have thought to bring in, but I really appreciate what it has become.