Instant Hot Water Systems
Your local continuous hot water system specialists
Fallon Solutions have been providing homes with instant hot water system solutions for over 60 years. With over 50 vehicles on the road, you can be sure to receive prompt, professional service from our trained and licensed master plumbers. From providing expert advice on the best instantaneous hot water system for your needs and taking care of the installation, to carrying out repairs, our hot water specialists can be trusted to get the job done.
Instant Hot Water Enquiry
What is an instant hot water system?
Instantaneous hot water systems are also often referred to as continuous flow hot water systems or instantaneous hot water units by various brands. These compact, energy efficient hot water heaters only heat water when it is needed. When the tap is turned on the cold water flows through a heat exchanger device, igniting a gas burner or switching on an electric element heating the water. This means as long as there is a regular gas or electricity supply to power the heating element you will never run out of hot water again.
Important note - the 'instant' in instant hot water systems refers to the unit instantly heating water when a hot tap is turned on. Not that the hot water is instantly released from the tap. There can still be a delay during which the heated water travels along the pipe from the hot water unit to the tap. This lag can be minimized by positioning the unit as close as possible to the outlet. Speak to our hot water specialists for specific advice on the most effective positioning for your home or business.
Save with continuous flow hot water
With no storage tank heating water when it is not required you will experience reduced power bills, not to mention additional benefits to the environment lowering your carbon footprint.
Approximately 38% of home power bills can be used to heat water so choosing to install an instant hot water heater is an economic option not only for upfront costs but for ongoing running costs as well.
Instantaneous systems can be installed both inside and outside. It is important when looking at installing any new instant hot water system that the number of outlets is considered so that the unit can keep with the demand. In most cases, you will need the system to be large enough so that several outlets can be used simultaneously if required.
Instant gas hot water systems are particularly beneficial if you have a local natural gas supply, as this will save on storage cylinders and having to remember to refill the LPG.




Supply, installation, & repairs for all leading brands of continuous hot water units
Fallon Solutions support all the major instantaneous hot water brands including the following: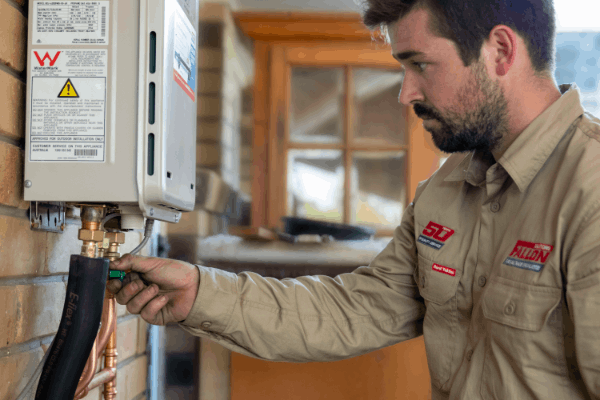 Great value continuous hot water supply & installation services
Fallon Solutions is one of the largest installers of hot water systems in South East Queensland. As a result, we are able to get these at a great price that we can then pass onto our customers.
For the very best in instant hot water system services contact Fallon Solutions at 1300 054 488 or complete the hot water booking form above.
Alternative water heating options:
Our instantaneous hot water system range available:
HOT WATER FAQ