Plumbing Maintenance
Keep your plumbing system flowing with Fallon Solutions
Our team of industry experienced plumbers offer complete plumbing maintenance services throughout Brisbane and the Gold Coast for homes, businesses, and investment properties. If your business relies on a well functioning plumbing system to operate efficiently and hygienically routine plumbing maintenance can ensure your system flows effectively every day of the year.
Plumbing Maintenance Enquiry
Essential plumbing servicing
For many businesses, such as those in healthcare, aged care, restaurants, and hotels, a reliable plumbing and drainage system is essential. Scheduled maintenance is beneficial for many reasons:
Reduces emergency call outs - for example regularly clearing and cleaning drains significantly lowers the chance of a blocked drain
Repairs or maintenance can be carried out at a time convenient to your business - cutting down on interruptions to activities
Catch plumbing problems when they're relatively straightforward to fix before they become large difficult issues.
The plumbing maintenance plan can be catered specifically for your property's requirements, varying in frequency and procedures as needed.
Why do flexi hoses burst? - video
Old, rusted and poorly installed flexible water hoses are prone to bursting and can therefore create a flood risk. Fallon Solutions plumber Josh explains what has to be done in order to prevent flooding in the home.
In this video, Josh explains how we install a kitchen mixer tap with isolation valves and why flexible hoses need to be checked regularly.
Common plumbing issues
A few common maintenance plumbing problems our plumbers can help address:
drain cleaning and clearing
checking for leaking toilets and taps
plumbing inspections
drain camera inspections
broken pipe repairs
smelly drains
clearing blocked drains
stormwater runoff issues
failing flexi-hoses
Great reasons to use Fallon Solutions plumbing team
Fallon Solutions have been servicing Brisbane for over 60 years. The secret to our success has been the focus we put on delivering the best possible outcome for our customers. Some of our key values are:
We are flexible and will work around you to get the best outcome possible.
Our staff are friendly, professional, and trustworthy.
We aim to get the job completed right the first time.
We are a 'One Call Trade Specialist', so we can supply all your trade needs.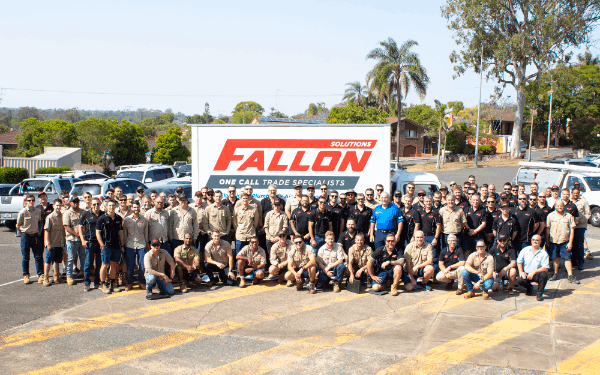 Your local plumbing professionals
For the very best in plumbing maintenance throughout Brisbane, the Sunshine Coast, Logan, Ipswich, and the Gold Coast contact our team on 1300 054 488.
PLUMBING FAQ