Solar Power
Top-quality solar system install, repair & maintenance
Fallon Solutions offer complete solar power solutions for homes and businesses across Brisbane, Sunshine Coast and the Gold Coast. Our experienced solar installers provide custom solar systems using reliable, proven solar components from leading brands. We'll assess your power requirements to ensure we supply a solar PV system which will cater for your electricity needs now and in the future.
Start saving on your power bill by speaking to the Fallon solar team about installing a system today.

Benefits of solar power
Solar power is one of the most efficient and cost-effective ways to generate power. Thanks to recent advances in solar batteries the excess power generated from the solar panels can now be kept in battery storage for later use at night or on cloudy days instead of being fed back into the mains power grid. This ensures that your home or business has ample green power at all times.
Abundance of renewable energy: If you live in sunny Queensland you know that this state is blessed with an abundance of sunshine throughout the year. The right solar system on your roof could potentially generate more electricity than you would be able to use.
Cost-effective: Utilising renewable energy from the sun and reducing your reliance on grid power means you can say goodbye to exorbitant electricity bills. This means more money back into your pocket.
Green energy: Converting your home to solar power reduces your carbon footprint or the amount of damaging greenhouse gas your home is responsible for.
Solar power services
Our team can provide every service needed to get your solar system installed as well as keeping it operating effectively.
Government Solar Rebates and Incentives
These solar rebates and incentives are to help people get a return on their initial investment when converting their home to solar. The current QLD incentives available for homeowners include:
Solar Feed-in Tariffs
This scheme is meant for people that produce more energy than their home can consume. You have your solar installer set your system up so your additional power transferred into the shared energy grid and for every kWh you give into the grid you receive money back. Typically in the form of money off your next bill.
Find out more about electricity feed-in tariffs - energy.gov.au
Small-scale Technology Certificates (STCs)
This particular scheme is federal and provides people installing renewable energy systems, and eligible hot water systems with Small-scale Technology Certificates which can be used to help with the purchase cost of your new system. The value of the certificates is determined by the amount of electricity produced by your system and the climate of the region you live in.
Find out more about STCs - energy.gov.au
How many STCS are you eligible for? How much money is the rebate worth?
The average number of certificates you are eligible for depends on the system size you have chosen. A solar system in QLD is eligible for up to 12 certificates per kW n average with the total number of certificates per KW increasing slightly with each KW increase of the system. Therefore an average household is eligible for up to:
| | | |
| --- | --- | --- |
| Size of the System | Number of Certificates | Total Rebate Amount ($39.50 per Certificate) |
| 1kW | 12 | $474.00 |
| 2kW | 24 | $948.00 |
| 3kW | 37 | $1461.50 |
| 4kW | 49 | $1935.50 |
| 5kW | 62 | $2449.00 |
| 6kW | 74 | $2923.00 |
| 7kW | 87 | $3436.50 |
| 8kW | 99 | $3910.50 |
| 9kW | 111 | $4384.50 |
| 10kW | 124 | $4898.00 |
What size solar power system do I need?
Our solar electricians will take into account your current power use, the available roof space on your building or alternative installation options, as well as your budget to recommend the ideal solar power system to meet your home or business power needs.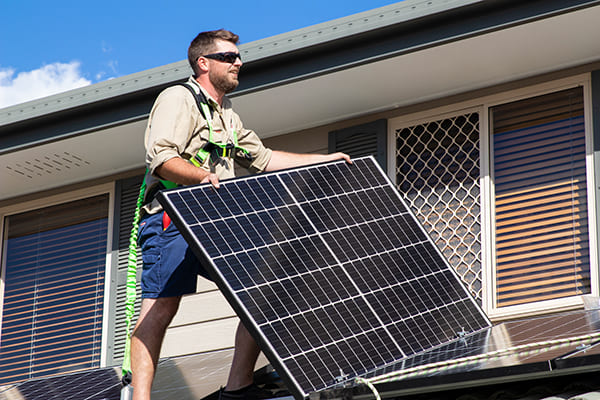 Solar power requirements
There are essentially three main components required to generate solar power in your home.
solar panels which convert the suns' energy into electrical energy (DC).
solar panel mounting systems which attach the solar panels to the roof.
solar power inverter which converts the DC electrical energy to AC for use in your home and, if required, to feedback into the main electricity network.
Another optional addition is a solar battery to store unused energy for future use. Batteries are a great choice if you use a lot of electricity late in the evening, or during times of low sunlight. Speak to our solar team to find out more.
Fallon Solutions has researched and tested various different brands of solar power components and selected a range which we believe offer both quality and value for money. Our solar installers are all Clean Energy Council (CEC) accredited Master Electricians and Installation Sub-Contractors.
Important note

All work on your solar power system, other than to locate, mount, and fix in place solar electrical equipment, including solar panels, must be carried out by a licenced solar electrician.

More information on this here - Solar power systems - what you can and can't do
Solar power specialists Brisbane, Sunshine Coast & Gold Coast
Fallon Solutions team can take care of all your solar PV system requirements. We can help you decide on the best size solar system for your home, the ideal placement on your roof, and which brands and components are going to suit your needs. Our team will then supply and install the chosen system, as well as assist with any future maintenance needs to ensure your solar power system works efficiently for years to come.
Contact our solar power specialists on 1300 054 488 or complete an online solar power enquiry form and we'll be in contact with your very soon.
SOLAR FAQ