Solar Power Gold Coast
Looking to invest in solar power on the Gold Coast?
Then search no further, the team at Fallon Solutions can help. From repairs to installations to solar inverters and everything in between, we offer a huge variety of options all across the Gold Coast.
Read on to find more about solar power systems, the great benefits of solar energy, STC government rebates and Feed-in Tariffs.
Request a Gold Coast Solar Quote
What is solar energy?
Solar energy is an alternative source of energy capable of producing electricity for households. It is a green source of energy, i.e., renewable energy, unlike the conventional non-renewable sources of electricity like fossil fuels, oil, petroleum, and natural gas. The other renewable energy sources include wind and water. China, Japan, the US, and Germany are leading in the world in terms of the installed solar capacity. Australia ranks 8th in the world and has immense solar energy potential due to its location.
Benefits of solar energy
Solar energy is effective in slowing down climate change by saving water, reducing our excessive usage of fossil fuels, and minimising greenhouse gas emissions.
Helps to reduce your home's carbon emissions.
Can lower home electricity bills by up to 30%.
The technology behind solar power systems has improved drastically over the years and is now much easier to install, maintain, and repair solar systems.
If you are interested in getting a quote for a solar system at your home reach out to Fallon Solutions. Our friendly team will provide you with comprehensive information to help you. We have decades of experience and we can provide you with the best options that suit your budget.
Why install a solar power system in your Gold Coast home?
Did you know, the Gold Coast receives around 300 days of sunshine each year?
Solar helps to protect your household against rising electricity prices. By investing in solar power you can substantially cut back your home power expenses. If you are looking to install a solar power system at your home or business on the Gold Coast, now is a great time to invest. Fallon Solutions Gold Coast solar installers provide top quality, custom solar solutions for residential as well as commercial power needs.
What are STCs and Feed-in Tariff?
Small Scale Technology Certificates: The government offers rebates to eligible customers who buy solar power systems. According to this scheme, you receive a certain amount of certificates according to the system size and location.

Rebate = Price per STC x Number of STCs
Note: The price of STC varies from $34-$40.

Feed-in Tariff (FiT)/ Solar Buyback: You may have come across this term numerous times. FiT is the credit received by consumers for the electricity they don't use, that is sent back to the power grid. It is a predetermined rate you will be paid per kilowatt hour. The rate depends on your electricity retailer and it is important to research and get the best FiT price.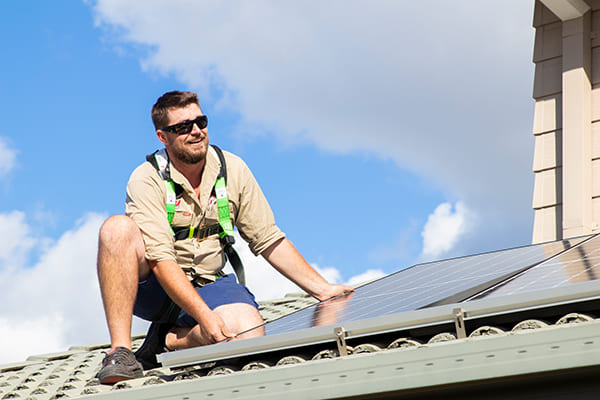 Solar system services we offer on the Gold Coast
The solar power system includes different components, the main components of solar power systems are:

Solar panels
Solar inverters
Racking mounts
Solar battery storage unit - optional
We have partnered with Blue Chip manufacturers to offer you the most premium, high quality, and solar reliable products. Our brands include Hyundai Energy Solutions, Sumec Phono Solar, Clenergy, Sungrow, ABB/Fimer, and Fronius
Fallon Solutions: expert solar installers Gold Coast
We understand that choosing the right solar system for your home may be confusing. We are here to help you! Our team of solar experts will provide you with the best option suitable for your needs. Call Fallon Solutions now on 1300 054 488 or complete an online solar quote request form.
Our Gold Coast Solar electricians service all areas of the city and surrounding suburbs including:
We can help with your solar issues in Gold Coast.