MATV System
Master Antenna Systems and Services
The abbreviation MATV stands for Master Antenna Television, also known as a Multiple Access Television System. MATV is used in large buildings, apartment complexes, hotels, hospitals, retirement homes and schools to enable television and FM signals to be received by multiple television sets throughout the building.
MATV Enquiry
Fallon Solutions experts in Antenna Installation .
MATV Design
The design, development and installation process for MATV requires a high level of specialised skill and experience. Fallon Solutions MATV design and installation technicians can custom build a MATV system ensuring your building or buildings receive quality, consistent television reception.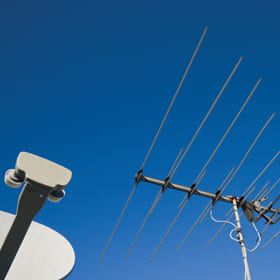 Master Antenna Television System
Does your building's television reception drop out, pixelate or break up? Is your building missing television channels? MATV problems can lead to bad or no TV signal being received through the building. Issues with components such as cables, connections, antenna or distributors can affect the quality and strength of your digital television signal.
Our MATV experts have the latest in diagnostic equipment to get straight to the cause of the issue and provide practical, efficient solutions to your MATV problems.
Installation
Whether you need a new building MATV system or are replacing an existing system, Fallon Solutions experienced MATV technicians can install your MATV system. For more information on MATV installation .
MATV
For all your MATV design, installation, repairs and service contact Fallon Solutions on 1300 054 488 or complete our Service Request form today.