MATV Installation
MATV System Installation, Repairs and Service
Here at Fallon Solutions we design the MATV system first, to ensure we can deliver top quality signals to each receiver. Our team consider aspect such as the buildings requirements, building purpose, size, dimensions and number of users when putting together the MATV design. Our MATV experts service all of your MATV installation needs.
MATV Installation Enquiry
Master Antenna Systems
The installation of the MATV requires a network of cables and specifically designed components combined to accurately amplify the television and FM signals from the digital antenna to one central location in the building. The master antenna systems then distribute the signals throughout the building to the desired locations.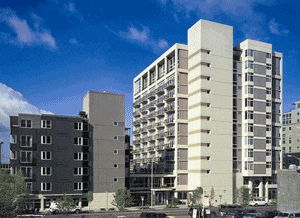 The benefits MA TV
In buildings requiring a large number of television sets such as hotels, hospitals or apartments a MA TV system allows signal to be received and distributed to all TV's without the need for multiple antenna's and expensive infrastructure. MATV allows for TV and FM signals to be transmitted from one distributor and ensures that each individual television receives clear TV reception without the interference and maintenance of each set needing an individual digital antenna.
MATV Reception Problems
Is your building suffering from poor digital TV reception?
Does your TV reception drop out, pixelate or stop all together sometimes? These are common digital TV reception problems and can be due to many factors. Our experienced television antenna technicians are trained in the latest MATV systems and use up to date diagnostic equipment to get to the bottom of your poor MATV reception issuesquickly.
Fallon Solutions MATV Specialist
All large building television needs, whether it's a school, hospital, apartment block or a hotel; Fallon Solutions can assist with your MATV installations. We not only supply and install MATV, but we can upgrade your old system or carry out repairs and servicing to your existing system. Contact our team today on 1300 054 488 or make an online booking today.