Daikin Split Air Conditioners
Supply, installation, and servicing
We are Daikin Authorised Dealers: what does that mean?

Daikin air conditioners are only available through the Daikin Dealer Network. Daikin believes that superior experience, technical know-how, and product knowledge can't be found at most appliance retailers; so for this reason, they sell through a network of qualified dealers. These Dealers will not only help you decide on the best Daikin air conditioner for your needs but will professionally install it for you as well.

10 good reasons to choose a Daikin Specialist Dealer:

Daikin - Why use a Daikin Specialist Dealer? (1703 KB)

Fallon Solutions have been a Daikin Authorised Dealer for many years and being one of the largest in Brisbane means we can pass on some pretty good savings.

More information on Daikin air conditioning
Fallon Solutions can supply, install, service and repair Daikin split system air conditioners. We are authorised dealers for Daikin Air Conditioning . This means that our technicians are trained and qualified to install and repair Daikin systems.
Being accredited Daikin dealers means that we are qualified to advise you on the most cost-effective and energy efficient solution for your air conditioning. Our technicians will take into account your budget, the room size, as well as all external factors such as the location of the rooms, number of windows etc before recommending an air conditioning unit that is right for you.
Daikin Air Conditioning Enquiry
The Daikin Air Conditioner Range
If you are looking for an air conditioner installation solutions, Daikin air conditioners offer a wide range of discreet wall-mounted models, compact floor consoles and versatile floor and ceiling units. All of Daikin air conditioning range utilises the latest technology so that each system offers superior comfort all year round.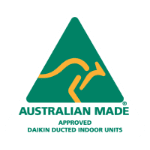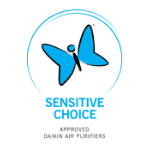 Benefits of a Daikin Split System Air Conditioner:
3D airflow - vertical and horizontal auto-swing to circulate air to the whole room.
Quiet operation - the quiet setting reduces the air conditioner noise level by 2-3 decibels
Night set mode - sleep comfortably with custom night heating or cooling
Intelligent eye - the unit senses movement with the use of an infrared sensor. This allows the air con to switch to energy saving mode if you leave the room and back to normal cooling or heating when you re-enter.
Purification - the US7 removes allergens, odours and pollutants using a thermal catalyst and flash steamer technology.
Dehumidification - removes the muggy, humid feeling from the room
Humidification - introduces humidity where needed to avoid dry skin and throat.
Econo Mode - reduces max operating current and energy consumption during startup to be more economic.
Daikin's 5-year warranty - 5-year parts and labour warranty
For more information visit our Daikin P-Series page or download the brochure here:

Daikin Split System Air Conditioner (3488 KB)
Your local Daikin Authorised Dealers
Fallon Solutions have supplied quality single split system air conditioners to many happy customers over the years. Our business has been operating for over 60 years and has grown to a fleet of over 60 vehicles servicing our service areas.
Give our team a call to arrange installation of your new Daikin Split System air conditioner on 1300 054 488 .
We also supply and install these premium brands:
AIR CONDITIONING FAQ