Split System Air Conditioner
Split system air conditioning supply, install & service
Need a new air conditioning unit but not sure which type to get or where to start? Air conditioning is a huge investment and it's important that you make the right decision for your home or business. Not all air conditioners are created equal, so it's important to speak with an expert before making a purchase.
Fallon Solutions offers professional split system air conditioner installation, repairs, and servicing for homes and businesses in Brisbane, Logan Gold Coast, Sunshine Coast, Moreton Bay. We have a wide range of air conditioners to choose from and our experts can help you find the perfect one for your needs.
Air Conditioning Enquiry
The versatile split system aircon range
Split system air conditioners are available in a huge variety of products types, styles, and brands. Factors such as the location of the installation, the size of the room, and your budget will dictate which split system our qualified technicians recommend for your home or business.
Wall mounted split systems
Compact floor consoles
Floor units and ceiling cassette units
Reverse cycle split system
Inverter split system
Fallon Solutions offer a wide range of split system air conditioner options for your home or business. From supplying and installing a new split system air conditioner to repairing and maintaining your existing system, we have a team of trained technicians on board that can assist. We offer a fast and reliable service that aims to provide you with a quality product that's cost effective and energy efficient.
All the leading brands of split system air conditioning
Fallon Solutions air conditioning team supply Daikin and Mitsubishi Electric, plus we install, service, repair and maintain a large range of leading air conditioner brands including: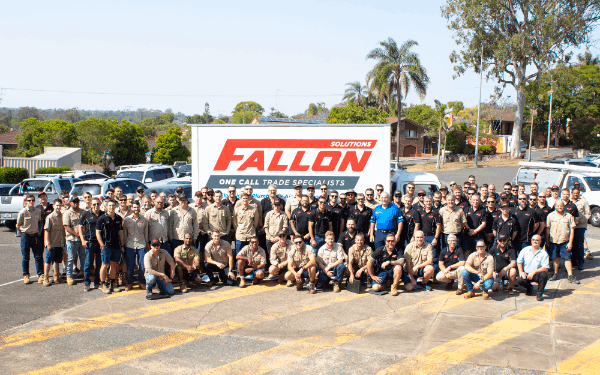 Split system air conditioning services
Fallon Solutions has been providing quality trade services for over 60 years and have a team of professional, reliable technicians who can assist with all your split system air conditioner requirements
If you are not sure where to start, give our air conditioning team a call on 1300 054 488 or complete our aircon booking request form today and we'll be sure you get the right advice from technicians with air conditioning repairs, supply, and installation experience.
AIR CONDITIONING FAQ