Emergency Commercial Electrician
24 hour commercial electrical services. Brisbane & Gold Coast.
ELECTRICAL EMERGENCIES
For electrical emergencies call us on 1300 054 488 24 hours a day.
Fallon Solutions master electricians can respond quickly to an electrical emergency all areas across Brisbane and the surrounding suburbs any hour of the day or night. Our phones are manned 24/7 by our local service support team who can dispatch the next available commercial electrician to your business.
Electrician Enquiry
Electrical emergency services for businesses
Fallon Solutions master electricians are all fully qualified professionals, experienced in a large range of urgent commercial electrical services . We can help with many electrical issues your business may have including:
RCD tripping
switchboard faults or overheating
general electrical fault finding and repairs
emergency lighting issues
air conditioning breakdowns
3 phase power faults
storm damage/power surges
wiring problems
data and cabling issues
security system and CCTV issues
hard wired smoke alarm problems
If the electrical service you are looking for is not listed here give our team a call on 1300 054 488 we are sure to be able to help.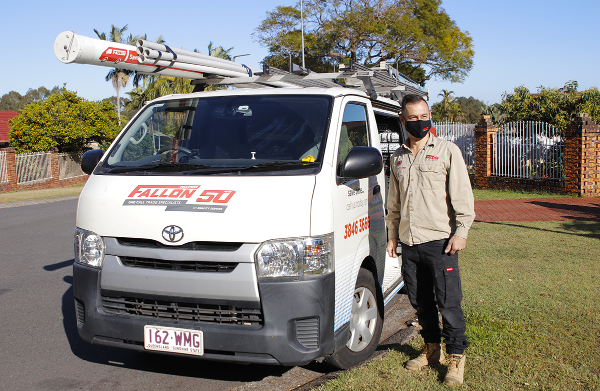 24/7 Commercial Electrician
Our workmanship is 100% guaranteed so you can have peace of mind knowing you're dealing with a well established reputable company. We can be there when your business needs us most, 24 hours a day, 7 days a week, 365 days a year, trust Fallon Solutions for all your commercial electrical needs.
ELECTRICAL FAQ