8 expert tips to help choose the perfect ceiling fan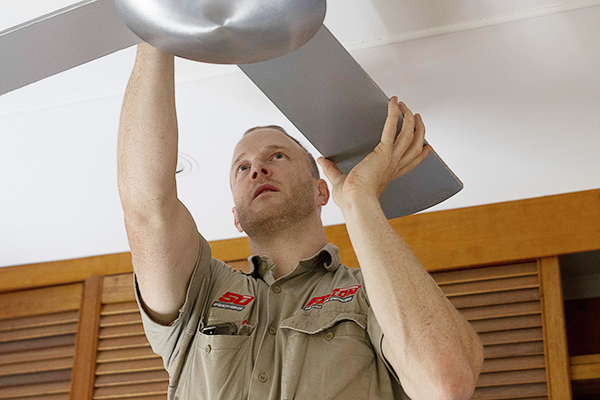 Published: September 06, 2016 Last Updated: March 02, 2022
The right ceiling fan choice could make or break a room. To help you make the best decision when buying a ceiling fan we've put together a list of tips from the experts for you to consider.
Fan location
Which room are you buying the fan for? The location of the ceiling fan will affect which style you purchase. When shopping, look out for fans labelled:
indoor use only
damp rated or alfresco - for outdoor rooms, patios or verandahs (outdoors but in covered areas)
wet rated or coastal - usually made from a rust-resistant metal with metal or acrylic blades. Ideal for partially covered areas where water spray from rain or the sea could reach the fan. This style often features a sealed motor to protect it from moisture damage so are perfect for tropical or humid environments.
Ceiling type
Choose a fan style that suits the ceilings in your home.
low ceilings - hugger fans or ceiling fans without a down rod sit close to the ceiling. One disadvantage of mounting the fan close to the ceiling is there is less air movement which can reduce the effectiveness of the fan. Ceiling fans should be at least 2.1 m from the floor and 300 mm from the ceiling for maximum airflow and safety.
standard height ceilings - the options in this range are endless.
high, sloped or cathedral ceilings - this style will need an extra extension rod to lower the fan to an effective level. Often the extension rod is sold separately.
outdoor ceilings - purchase a fan specifically designed for the outdoors for use in external areas. These fans will be resistant to dampness, humidity, and are ideal for use in wet conditions.
Fan blade choice
A fan with nine long blades doesn't necessarily cool better than a fan with four standard blades. Several factors affect the performance of a fan including the motor power, shape, blade material, pitch of the blades, the shape and size of the room, distance from the ceiling, etc. Speak to the ceiling fan retailer or your electrician for advice on the best style for the area you're wanting to cool.
Noise levels
Metal blades can be slightly noisier than timber ones but metal blades tend to move more air so you'll need to weigh up your priorities depending on where the fan will be located. Look for models labelled with 'Ultra-quiet operation' for use in bedrooms.
Ceiling fan size to room size ratio
A small to medium-sized room of up to 20 sq/m would suit a fan blade of around 122 cm.
Large rooms sized between 20 to 36 sq/m are suitable for fan blades from 132 cm to 142 cm or more.
Ceiling fan and light combinations
The integrated ceiling fan/light style is a great option for small rooms where the fan is to be installed in the centre of the room where the existing light fitting is.
Looking for more ceiling fan buying tips and information -