Voice control for your Mitsubishi Electric air conditioning system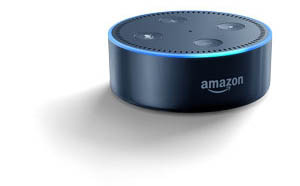 Published: August 13, 2019 Last Updated: March 16, 2022
It's the ultimate in easy air con operation, you don't even need to lift a finger. By installing Wi-Fi control and connecting your Mitsubishi Electric split system or ducted air conditioner up to Google Home Assistant or Amazon Alexa you can now have full control using only your voice. Plus, if you did want to get active and lift a finger you can easily turn your aircon on or off, increase or decrease the temperature, set a timer, and lots more in the app on your smartphone from wherever you are.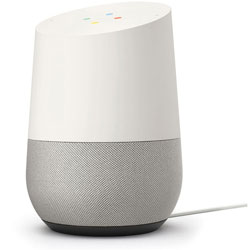 Apart from the obvious benefit of never having to search down the back of the couch cushions for the air conditioner remote ever again, controlling your aircon via your Wi-Fi connection also means you can:
Come home to a cool or warm house - easily turn your air conditioner/s on as you leave the office or work via your smartphone.
Reduce your home climate control expenses - if it's as simple as saying "Ok Google set the air conditioner to 24 degrees" once the house has cooled down. You'll easily lower your power bills over the year just by making small adjustments like this.
Set minimum and maximum room temperatures - to keep your family comfortable all day long.
Control ducted aircon zones - monitoring the bedroom zones on hot summer nights or keeping the kitchen warm on cold winter mornings is as easy as saying "Alexa, what are the bedrooms set to?" or "Alexa, set kitchen to 27".
Control all split systems in your home from one central app - selected Mitsubishi wall-mounted units can be fitted with a small Wi-Fi control adaptor to connect to your control app.
Integrate your air conditioning into your other smart home features - including lighting, security, home theatre, and more.
Turn on the air con for visitors - Got guests arriving at your Airbnb when you're out for the day? Save power and add stars to your host rating by turning on the air conditioner half an hour before they walk in the door.
Reduce allergens in your home - if the pollen count has blown through the roof during the day you can set the air con to filter out all the nasties before you get home.
How do I get WiFi controlled Mitsubishi Electric air conditioning?
Single and multi-split system indoor units need to be fitted with a small MAC-568IF Wi-Fi Adaptor by your electrician or air conditioning technician.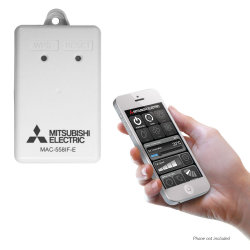 Wifi Control is compatible with the current range of M Series, P Series, and City Multi-split system and ducted Mitsubishi air conditioning systems.
MSZ-AP25/35/42/50/60/71/80VG(D)
MSZ-EF22/25/35/42/50VES/VEW/VEB
MSZ-FH25/35/50VE
MSZ-GE22/25/35/42/50VA(D) and MSZ-GE60/71/80VA(D)
MSZ-GL25/35/42/50/60/71/80
MSZ-LN25/35/50/60VGD
MSY-GN25/35/42/50/60/71/80VF
MFZ-KJ25/35/50/60VE
PEA-RP100/125/140GAA
PEA-RP170/200WJA
PEA-RP/M250WHA*
PEAD-RP71/100/125/140JAA
CITY MULTI indoor units - manufactured after Jan 2015.
Mitsubishi Wi-Fi Control App can be downloaded from:
Then all you need to do is connect up your router, smart device, Google Assistant or Amazon Alexa, and the air conditioners. More information on set up and using the app can be found here - Mitsubishi Electric Wi-Fi Control
Want to get connected today? Speak to our experienced Mitsubishi Electric Diamond Dealer on 1300 762 260 or complete our quick booking request form now.