Best Hot Water Systems - comparison
Compare the costs of hot water systems
Hot water is responsible for around 38% of the average household's energy costs and around 25% of the nation's energy consumption. Water heating accounts 23% of total greenhouse gas emissions from home energy use, and is second only to road transport, as the largest source of greenhouse gas emissions in Australia. With the rising cost of non-renewable energy, it is vital to think carefully before selecting your hot water system .
Hot Water Enquiry
Installation Costs
The cost of buying and installing a new Hot Water System is only one part of the overall cost you need to look at. It is however, the one cost that most of us focus on as it affacts us now. Below is a graph showing the overall running costs of the different Hot Water Systems.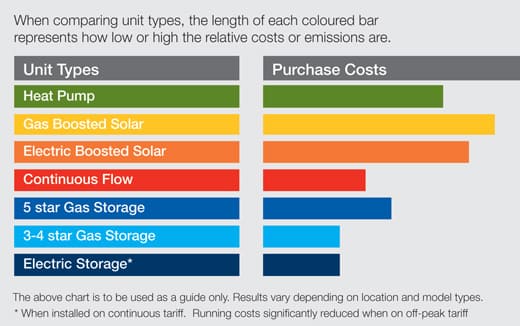 Running Costs
The energy used by your hot water heater will impact on your energy bill for years to come so deciding which hot water system is right for your household is very important. Below is a graph showing the running costs of the different Hot Water Systems.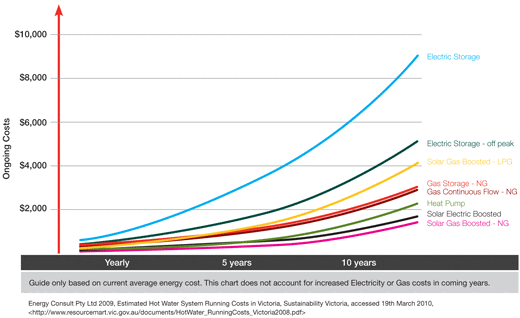 Environmental Costs
The final cost of your new Hot Water System that you need to consider is the environmental cost, or the CO2 impact. Below is a diagram showing the approximate CO2 emissions for each of the different types of Hot Water Systems.
Other considerations when choosing the best hot water system for your home
Will the Hot Water System be installed inside, outside or on the roof?
HOT WATER FAQ