3 Phase Solar Inverters

Have you considered 3 phase solar for your home or business?
You should! Three phase solar inverters are an effective and efficient addition to any property with a three-phase power supply, offering more consistent power with less tripping and voltage rise issues than single-phase options. And, if you need a little help, give us a call. Fallon Solutions can assist every step of the way when it comes to 3 phase solar arrangements for a variety of needs, so get in contact with our knowledgeable team today to find out more. We service Brisbane, the Gold Coast and the surrounding areas too!
3 Phase Solar Enquiry
What is a 3 phase solar inverter?
A 3 phase solar inverter takes DC power from solar panels, mixes it up and sends out the resulting AC power evenly across a three-phase supply.
What is a three-phase supply I hear you asking? Most Australian homes have a single-phase electrical supply, which means only one wire comes in from the grid. Alternatively, a 3 phase supply has 3 wires coming in from the grid. The main benefit of a three-phase supply is that more power can be pulled from the grid to your home than their single-phase counterparts.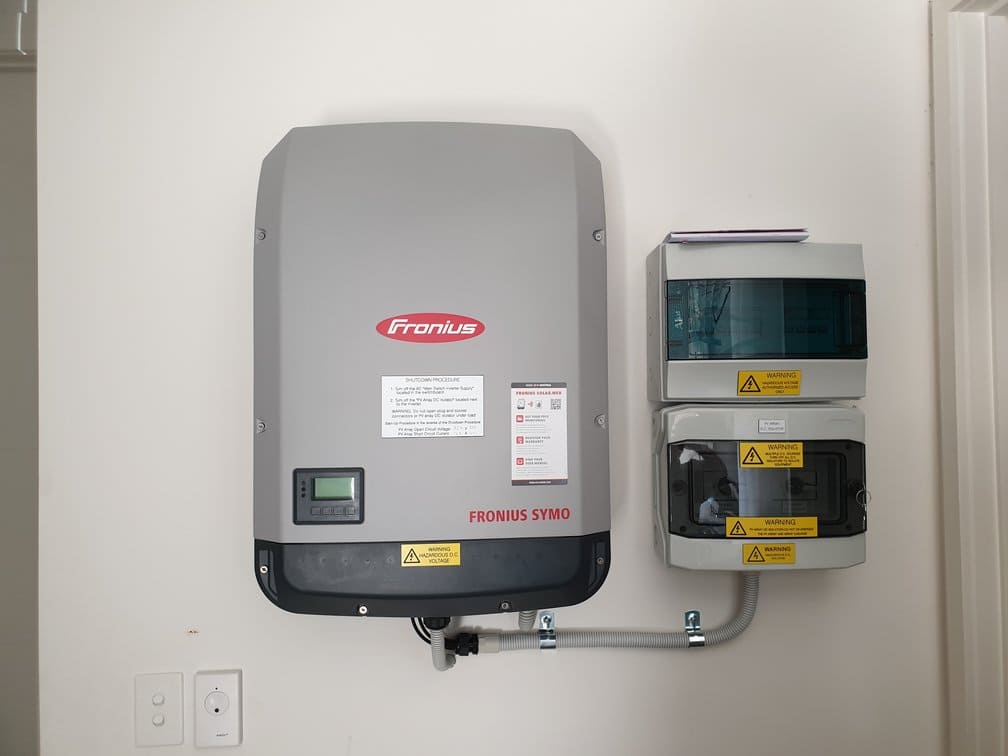 What benefits do 3 phase solar inverters offer?
Three-phase solar inverters offer a few notable benefits including:
More balanced load bearing.
Spreading out the inverter capacity in three directions coming into your home means that the solar energy doesn't have to be pushed as hard to reach the grid.

The local grid voltage will not be increased as much as a single phase alternative.
Considerably more solar (3-6x more) can be sent back back into the grid.
Less tripping due to less instances of excess voltage.
Do I have a three-phrase electrical supply in my home?
If you would like to see if you have a three phrase electrical supply in your home, first things first - head to your switchboard and open the door... and do not touch anything. Take a look however and see how many 'poles' there are - single-phase switches are 'one pole' wide, whereas three-phrase switches are 'three poles' wide.
If you have a three-phase supply electrical supply to your home, a 3 phase solar inverter is a highly recommended addition to any property.
CEC accredited 3 phase solar specialists
The Fallon Solutions solar team are fully qualified and CEC accredited installers, offering you peace of mind that you are dealing with licenced professionals. Our technicians have extensive, hands-on knowledge when it comes to three-phase solar in a range of environments, allowing us to provide practical and top quality advice and options to all our customers.

Why choose us to help with 3 phase solar?
There are a range of reasons why you should call Fallon Solutions to help with everything to do with 3 phase solar:
We have been around since 1962.
We always turn up when we say we will because we value your time

We employ fully licenced and trained solar professionals.
We set high service standards for every job we complete, no matter the size.
Our solar installers are CEC accredited.
We offer 24/7 service for all your after hours emergency issues.
We always contact our customers to confirm our arrival time, so you know we're on the way.

We 100% guarantee all of our work.

Professional 3 phase solar inverter experts
If you would like further information regarding 3 phase solar inverters and how they can fit within your current solar needs, give Fallon Solutions a call today on 1300 054 488 . We are the solar specialists you can rely on in Brisbane and across the Gold Coast, so get in contact now.