Solar Systems Brisbane
Make the switch to solar energy today
In Queensland there is over half a million rooftops that currently have a solar system installed. With the price of a new solar system steadily decreasing and grid power costs on the rise, there so are many great reasons for Brisbane and Gold Coast residents to install a solar system now.
Speak to one of our expert CEC accredited solar electricians to find out more on how your home or business can benefit from a new solar system today.
Book Solar System Service

Solar System Prices
When it comes to the pricing of solar systems, including purchase price, installation costs and running costs, there are a range of factors to consider including:
Size of the system - a 1.5kW solar system is likely going to cheaper than a 10kW system.
The position of the solar system on your roof, including how easy it is to access your roof.
Whether your switchboard needs upgrading to account for your new solar system.
Whether you choose to have a solar battery installed or not.
How many solar panels you require and the type of panels.
It is therefore suggested that you speak to a solar professional, as they will be able to take into consideration your exact circumstances and provide a quote applicable to you and your needs.
Who can install a solar system?
Only licensed electricians are able to install a solar system on your home. Our electricians can help you with advice about which solar system would be ideal for you. We will give you all the information you need to allow you to make the right decision based on your individual power requirements. We are also accredited by the Clean Energy Council, offering you peace of mind that you are dealing with professionals.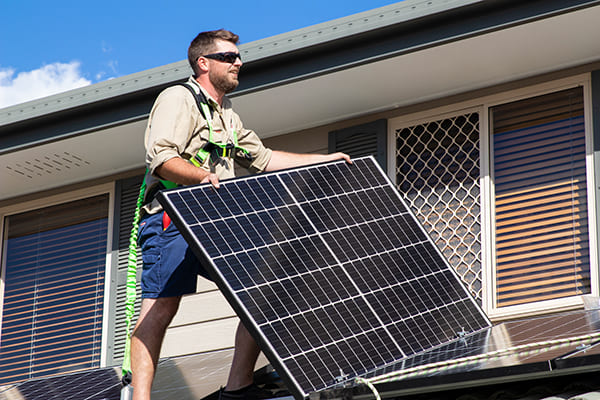 How to choose the best solar system
Before you look at solar brands you need to first choose the best size solar system for your home or business electricity needs. The main points you need to consider include:
Where is the best position on your roof to install the panels?
The best position will be the one that gets the most direct sunlight for the majority of the day. This will maximize the amount of power that you will be able to generate.
What size solar system will you need to achieve your goals?
If your goal is to completely replace your electricity use with renewable power or simply lower your reliance on the grid, you can first have a look at your last electricity bill and work out how much power your household consumes in an average day. Then from there, you will be able to get a better idea of the size of the solar system you will need.
What is important to you: installation cost, running cost or green credentials?
This will be different from person to person but generally people gain back what they have spent on their solar system within 5 years. Others are just happy with knowing they are producing clean energy and reducing their carbon footprint.
Government Solar System Incentives and Rebates
The Queensland and Federal Government have released two main solar schemes to reduce the cost of solar as well as obtain a faster return on your investment. They are the Small-scale Technology Certificates and the Feed-in tariffs.
Solar Feed-in Tariffs
This scheme allows you to receive payments for any additional kWh of solar energy that your system generates that you do not consume. The additional power from your system will be transferred to the shared energy grid and the money generated will come off of your power bill.
Small-scale Technology Certificates
Often referred to as STCs these certificates come in the form of a rebate when installing solar systems. These can be sold on an open market or handed to your solar installer for a decent discount.
Solar Systems we supply and install?
Fallon Solutions service and repair most brands of solar components, but when it comes to installation of a new solar system, we have decided to stick to brands that we believe offer the best quality and value for money. These brands have been selected for their performance, reliability, and quality as well as how suited the products are for our harsh Australian conditions.
We have identified through previous usage and extensive research what we believe to be the most reliable and best-performing inverters, panels, and panel racking systems available for our Queensland climate.
Find out more about our recommended brands:
This, along with the quality of workmanship you can expect from Fallon Solutions tradespeople, will ensure that you receive a great solar system that will last the test of time.
Important note

All work on your solar power system, other than to locate, mount and fix in place solar electrical equipment, including PV panels, must be carried out by a licenced electrician. More information on this here - Solar power systems - what you can and can't do
Your local solar system specialists Brisbane & Gold Coast
Contact Fallon Solutions to find out more about installing a solar system in your home or business by calling our team on 1300 054 488 or completing an online Solar Systems enquiry form today.