Daikin Zone Controller
New Zone Controller for Daikin Ducted Air Conditioners
We are Daikin Authorised Dealers: what does that mean?

Daikin air conditioners are only available through the Daikin Dealer Network. Daikin believes that superior experience, technical know-how, and product knowledge can't be found at most appliance retailers; so for this reason, they sell through a network of qualified dealers. These Dealers will not only help you decide on the best Daikin air conditioner for your needs but will professionally install it for you as well.

10 good reasons to choose a Daikin Specialist Dealer:

Daikin - Why use a Daikin Specialist Dealer? (1703 KB)

Fallon Solutions have been a Daikin Authorised Dealer for many years and being one of the largest in Brisbane means we can pass on some pretty good savings.

More information on Daikin air conditioning
Daikin Zone Controllers offer high control over the functioning of aircon, comfortable climate control solutions and increased efficiency. Ducted air conditioners are suitable for both residential and commercial spaces. Fallon Solutions provides installation, repair and maintenance services for Daikin's air conditioners, inverters and zone controllers. Speak to our experts to get a personalised solution for your needs.
Daikin Zone Controller Enquiry
How do ducted air conditioners work?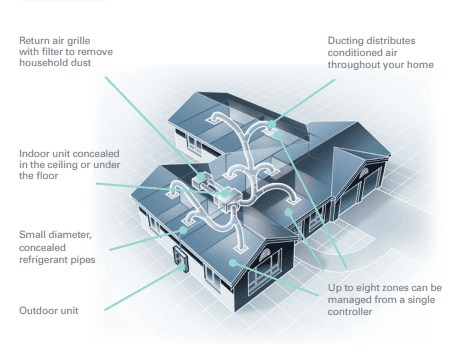 Ducting distributes conditioned air throughout your home
Up to eight zones can be managed from a single controller
Return air grilles with a filter removes household dust
The indoor unit is concealed in the ceiling or under the floor
Discrete single outdoor unit
Small diameter concealed refridgerant pipes are used.
Daikin New Ducted Aircon Zone Controller
The new Daikin ducted aircon zone controllers work with the Daikin ducted range. Fallon Solutions provide installation for all ducted models with professional installation and set up for each controller.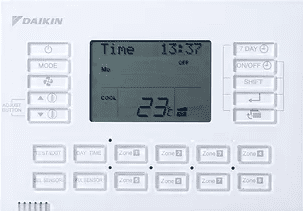 Features of Daikin Zone Controller
Contemporary white finish
Dimensions : 120 x 170 x 24
Screen - 3.17"
Backlit display with easily readable text
Built-in temperature sensor
Connection of up to 2 remote temperature sensors
Programmable On and Off timer
Simple 7-day time clock to tun the ducted aircon on or off at a certain time of the week
Advanced 7-day time clock for Zone Control and temperature sensor selection
Optional slave controller (BRCSZC1) is also available
The new zone controller offers Airside Control when connected to the following inverter models:
FDYQ (R410A Premium Invertor)
FDYA (R32 Premium Invertor)
FDYAN (R32 Invertor)
Note: Airbase is not connectable when the optional slave controller (BRCSZC1) is used.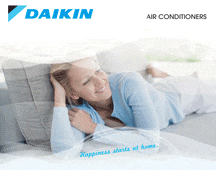 Daikin Airbase
Daikin Airbase allows you to control the functions of your aircon with a few taps on your smartphone. The Daikin Airbase app can be connected to your home or office's Wi-Fi connection or can connect wirelessly to a wireless LAN adaptor equipped ducted aircon.
The Daikin Airbase app is available on App Store and Google Play.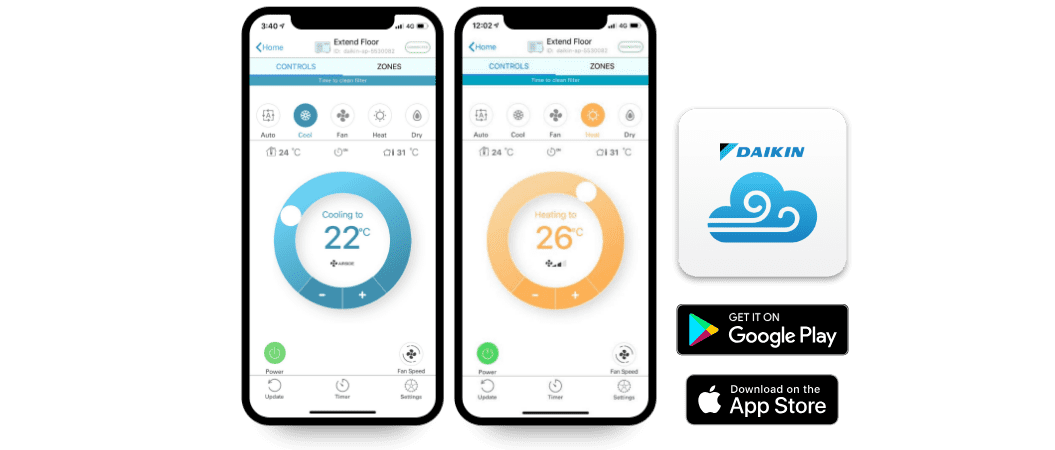 More information on the Airbase wifi control app can be found here - Daikin Airbase
Airside Control
Airside control takes the zoning functionality for ducted systems one step further. It has the following benefits:
Cool air is distributed with more efficiency to the occupied zones
When you turn off the zones, the indoor fan unit reduces the speed to provide efficient cooling in open zones
Improves comfort
Reduces energy consumption
Quieter operations
For more information, download the brochure: Daikin AirHub brochure
Why choose Fallon for Daikin Installations?
We are Daikin Authorised Dealers - that means we can provide customised solutions for your Daikin air conditioner.
We have been serving residential and commercial customers across Brisbane for over 60 years.
Our air conditioning technicians are fully licensed and insured to provide top quality air conditioning services.
Our staff undergoes regular training to ensure they are up to date with the latest industry standards and technology.
Your Local Daikin Air Conditioning specialists
For more information on ducted air conditioning controllers, speak to or team on 1300 054 488 or complete our online Daikin Air Conditioning Service request form today.
AIR CONDITIONING FAQ