Blocked Drains Gold Coast
Your local Gold Coast drainage solution specialists
Are you suffering from slow draining or fully clogged drains? Our experienced Gold Coast plumbers can clear your drains fast, plus we offer long-lasting, practical solutions to ensure the problem doesn't reoccur.
Blocked Drain Gold Coast Enquiry
Common causes of drain clogs
Drains block up for many different reasons, our plumbing team never know what they're going to find, however, there are a few common culprits which we see every day.
Grease, fat, and oil - these get washed down the kitchen sink or through the dishwasher drain but as they cool a bit further along the pipe they become solid and stick to the drain. Over time substances can build up, eventually completely blocking the drain. Due to their sticky nature, they can also collect other debris speeding up the clogging process.
Hair, soap scum, food scraps - the tiny bits that flow down the drain usually get washed along into the sewer without a problem, however, tiny imperfections or movement of pipes can cause these items to catch on the pipe.
Wet wipes - many of these products are labelled 'safe to flush' or 'flushable' which is not the case. Toilet or bathroom wet wipes don't break down in the sewer system and are becoming one of the leading causes of blocked toilets and drains for homeowners as well as councils.
Drain collapse - older drains or those located in an area where heavy machinery is in use can become crushed and collapse stopping the flow of wastewater or storm water.
Ground movement - Loose or sandy soil, just like much of the Gold Coast is built on, can allow pipes and drains to move which can cause joins to become loose or even completely disconnected.
Tree roots - it only takes a tiny crack for thirsty tree roots to find their way into a drain. Once inside they grow quickly thanks to the abundant supply of water eventually blocking the drain completely.
Gold Coast drainage services
Our plumbing and drainage team can fix all of the above issues and many more. We specialise in clearing your drains fast, but also we recommend longterm repair solutions so it doesn't happen again and again. Our Gold Coast drainage services include:
Practical solutions to all your drain plumbing problems on the Gold Coast
Fallon Solutions plumbing team are on hand to take care of all your blocked sewer or stormwater drain problems across the Gold Coast. Contact our team at 3255 1203 or complete our service request form today.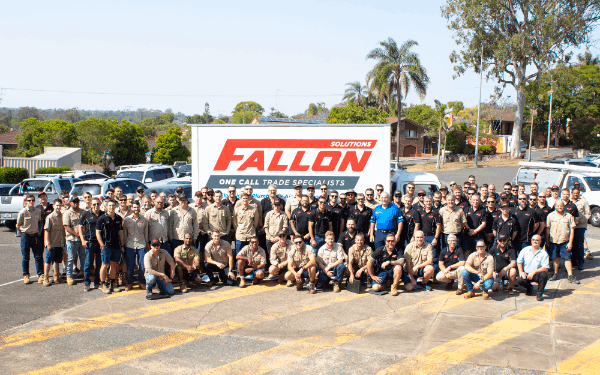 Great reasons to use our team for blocked drains on the Gold Coast
We offer a 10 year warranty* on our pipeline rehabilitation.
Our plumbers are fully trained in the latest 'no dig' trenchless drain repair techniques, which allows us to fix your blocked drains and stop them from happening again; without the need to dig up your property.
We provide fixed prices, so you'll know the cost before we start. No surprises.
We're your 'One Call Trade Specialists' on the Gold Coast, we can help you with all your trade needs.
Our team are on time, clean, friendly, and knowledgeable.
We can help with your drainage solutions issues in Gold Coast.