Solar Inspections
Professional solar inspection services
Ensure your solar power system is working efficiently, effectively, and safely with a $99 Solar Inspection from Fallon Solutions solar specialists. Our experienced team of accredited installers and solar electricians can carry out a complete review of your solar PV system to ensure it's operating safely and providing your home with the most solar-generated power as possible. We provide specialist solar inspection services across Brisbane and the Gold Coast, book today.
Solar Inspection Booking

Lack of solar maintenance can cause fires
Fires can (and do) result from faults in the solar PV system. The possible reasons for fires are due to:
Fauty solar DC isolator
Deterioration to the cable insulation
Defective components
Corrosion
Damage from heavy storms and bushfires
Poor installation
DC Isolator Fires
The solar DC isolator/s fitted to the rooftop or external walls can be exposed to ongoing harsh weather which can lead to deterioration posing a severe fire risk.
Isolator fires are very dangerous as dry leaves and garden debris (which can collect under or around the solar panels and components) can catch causing the fire to quickly spread. According to Fire and Rescue NSW, solar panel fires have increased 500% in the past 3 years, however, the rate of solar safety inspections have decreased.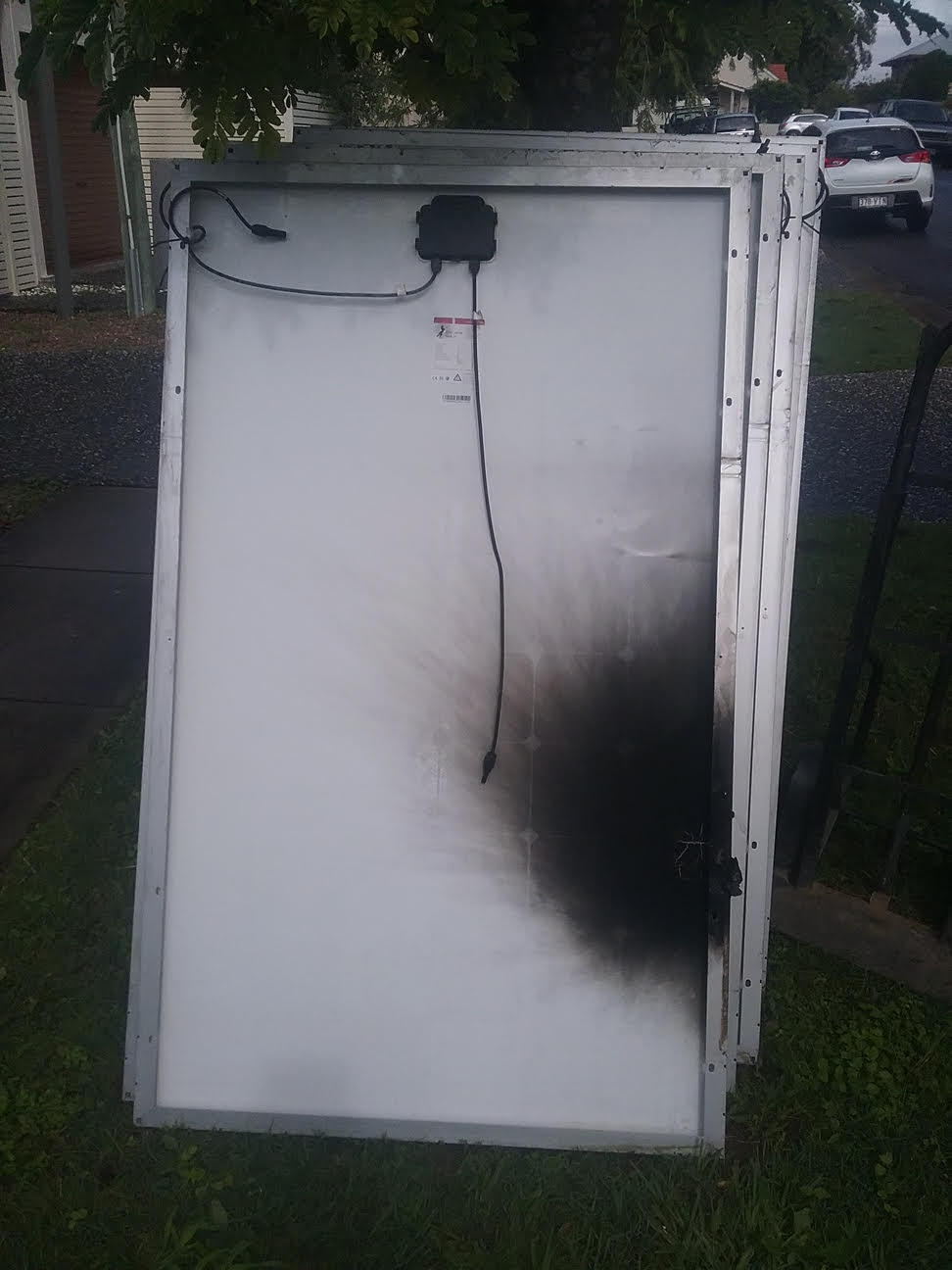 The Clean Energy Council has improved the safety of rooftop DC isolator switches by introducing additional installation requirements in the last 6 years. CEC also recommends annual solar inspections and homeowners and businesses need to ensure their system is safe and well-maintained. The best way to prevent isolator fires is by carrying out an annual solar inspection. Regular checks will ensure the issues are dealt with efficiently, preventing future breakdowns and reducing the incidence of fire.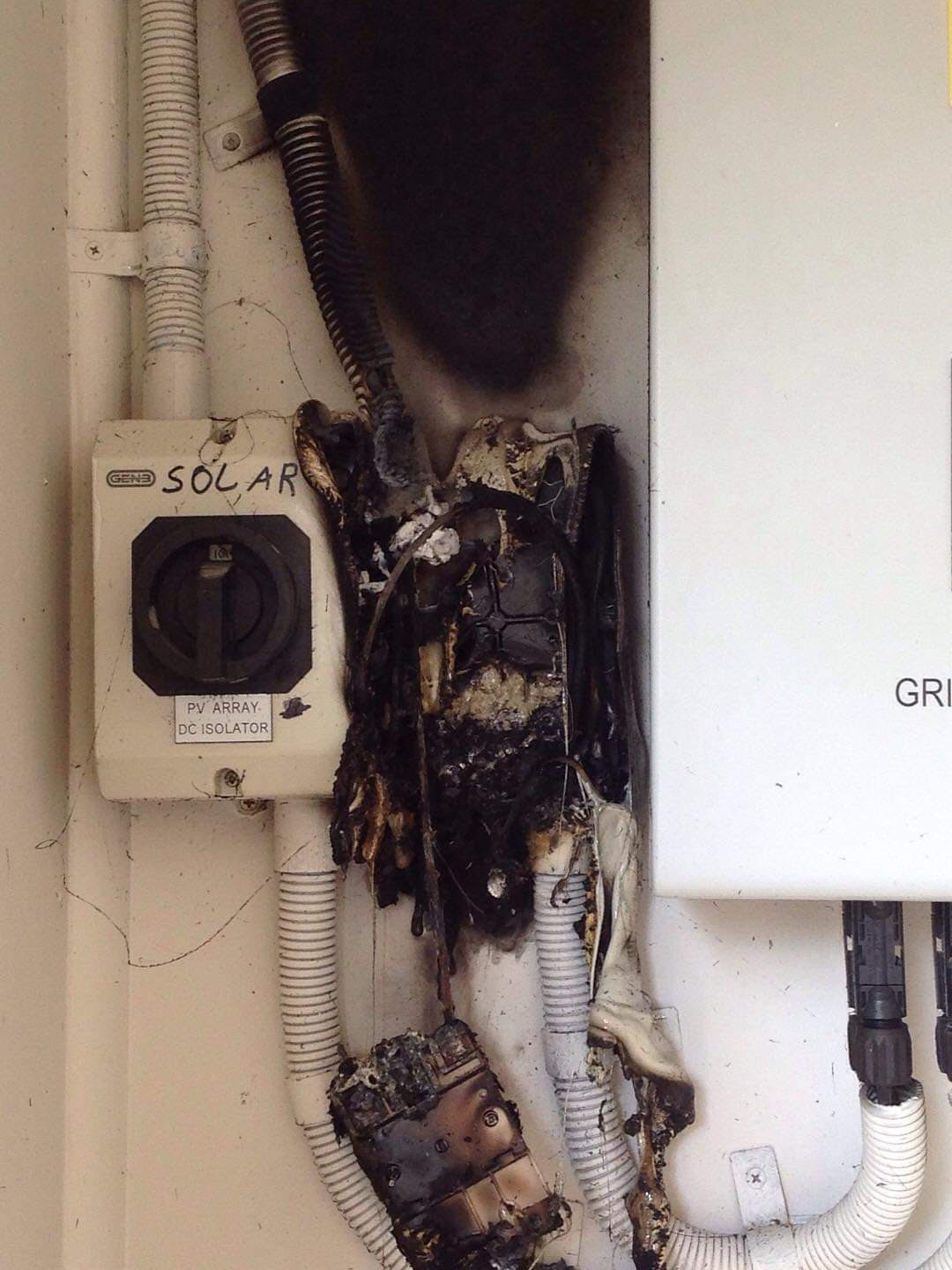 Burnt out DC isolators are more common than you can imagine. Our solar technicians have found many burnt isolators in during solar inspections and servicing. That's why we urge you to book a solar inspection today and avoid preventable fire damage.
Solar maintenance checklist
Fallon solar electricians carry out inspections using our comprehensive solar maintenance checklist to ensure every aspect of your solar system is checked, from solar panels to the solar inverter, cabling to switchboard condition.
Our $99 solar inspection covers:
Switchboard condition review including:
Internal and external box and backing board condition
Labelling
Safety switches
Circuit breakers
Metre wiring
Surge protection
And more
Solar inverter condition review including:
General condition
AC or DC isolator
Labelling
DC Cabling review including:
Type of cables used
Cables in a continuous conduit and labelled correctly
Rooftop isolators
Cables under solar panels
Roof connection and mounting systems
Solar panel condition review:
Dirt, debris buildup or mould
Cracks or solar panel damage
Discolouration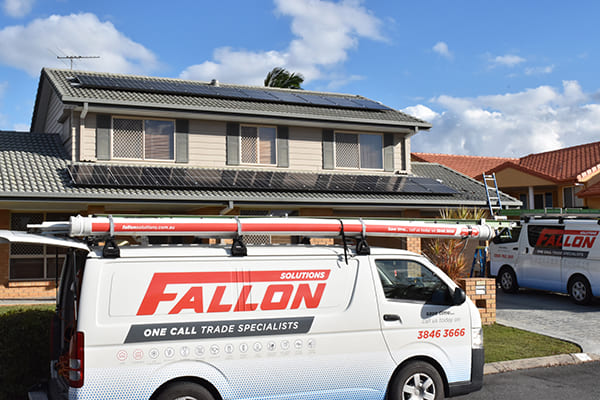 Benefits of a complete solar inspection
Most people don't really think about their solar energy system until it stops working, however, the difference between a well functioning solar PV array and a faulty system could be costing you hundreds in lost power each year. A complete solar inspection can:
expose faulty or incorrect solar installation practices.
identify problems which could be reducing the power generation of your solar system.
identify the use of unsafe or recalled components.
uncover potential safety hazards such as faulty cabling or damaged isolators.
catch wear and tear issues before they become big problems. Allowing repairs to be carried out at a time convenient to you rather than emergency repairs.
reduce your reliance on expensive mains generated power.
Solar services you can trust
Fallon Solutions team of fully licenced Clean Energy Council accredited solar electricians offer services you can trust, our workmanship is backed by a 100% guarantee, we carry out regular training so we are able to offer the most efficient and up to date practices, and we're fully insured for peace of mind. We've been providing electrical services to Brisbane for over 60 years, and we'll be here for many more.
Your local solar specialists
Ensure your solar power system is operating at its most effective with a $99 Solar Inspection from Fallon Solutions solar electrical team. Book your inspection by calling 1300 054 488 or complete our online solar inspection booking form today.