Solar Installers Brisbane
Professional solar installation & expert advice
Our team have the skills and experience to provide you with the essential information and advice on the best solar system to suit your needs. Whether you're looking to save some money or reduce your carbon footprint, our solar installation team can help. With over 60 years experience in electrical services, your solar installation will be completed with precision, expert industry knowledge and skills by our licenced and qualified solar installers.
Book Solar Installation Today

Solar Panel Installers
We employ a local team of Clean Energy Council (CEC) accredited Master Electricians and approved CEC qualified solar power installation sub-contractors. This ensures that your solar system, panels and battery installation will be completed in a professional, safe, and compliant manner.
Our solar installers can install solar panels and systems on any style of roofing. Whether your roof is made from terracotta, slate or Colorbond we have a solution that allows us to install your new solar panels.
During a solar installation our installers get asked a lot of questions however the two most common are:
How are solar panels installed on a roof?
There are many different structural attachments for mounting solar panels to a roof. The majority use a stanchion or standoff which will attach to structural parts of the roof such as rafters. All of the stanchions are flashed to stop any water from being able to make its way into your home or business.
Can anyone install solar on their home or business?
The short answer is no. Government workmanship regulations and private insurance company policies dictate explicitly that any and all electrical work (including solar) must be carried out by an authorised licensed electrician.
This is to ensure the safety of the system. Any work carried out by an unlicensed solar installer probably won't be covered by your insurance if something goes wrong.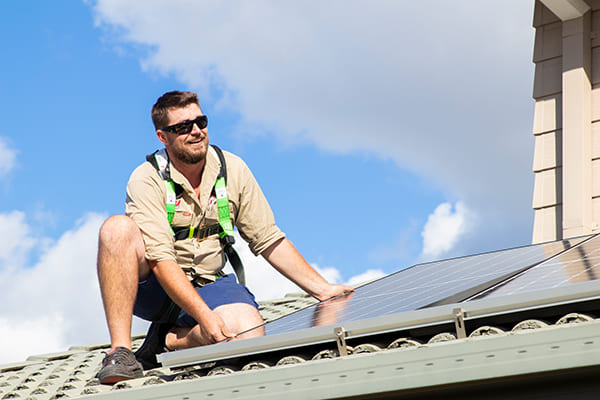 Government solar installation incentives
The Federal Government solar incentive offers Small-scale Technology Certificates for eligible new solar installations. As long as your solar installation is installed according to the requirements set out by the incentive you will be eligible to obtain STCs and exchange them for a discount off of your solar installation invoice or sell them yourself.
Solar Installation Prices
The price to install solar varies in accordance with a range of factors including:
Ease of roof access.
Whether your switchboards require upgrading.
The size of the system.
Where your system/panels will be located.
These are just a few points to consider - always speak to a solar professional and they will be able to advise in relation to solar installation prices and what factors are applicable to you and your home.
Premium quality, reliable solar brands
We are extremely confident that we have chosen solar system brands that will not only live up to your expectations but ours as well. We have been in business for over 60 years and we will only install products that will stand the test of time, just like us.
Important note

All work on your solar power system, other than to locate, mount and fix in place solar electrical equipment, including PV panels, must be carried out by a licenced electrician .

More information on this here - Solar power systems - what you can and can't do
Book your solar installation today
Go with the Solar Installers you can trust to be around for years to come. Simply call us on 1300 054 488 or fill in an online enquiry form and we'll be in contact.