Electric Hot Water Systems
Looking for a new electric hot water system?
Advantages of electric hot water systems
Electric hot water systems heat water and store it so that it's ready for you as soon as you need it. This also has the added advantage that you get full mains pressure to showers, washing machines, dishwashers, baths, and basins - all at the same time. This is an important consideration because everyone loves lots of hot water when they need it.
Electric water heaters are generally the cheapest option, easy to install and hassle-free to run.
Electric Hot Water Enquiry
Disadvantages of electric water heaters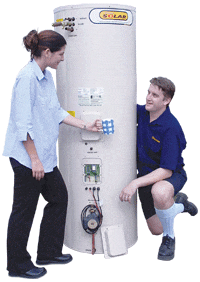 While electric hot water system prices are generally the cheapest to buy and install, they are more expensive to run. They avoid using expensive peak electricity by only heating overnight during off-peak. To avoid running out of water when not heating, they are usually larger than needed meaning that more water than is needed is heated every day, leading to excess energy consumption.
Electric hot water systems are also considered the poor choice for reducing your carbon footprint.
But don't let this dissuade you, as the systems are getting more efficient all the time and in many cases are your best or only option.
Fallon Solutions can help you choose the best electric hot water system for your requirements and can install anywhere.
We supply and install all the leading brands of electric HWS
Fallon Solutions support all the major electric hot water system brands including the following:



Electric Hot Water System Prices
Being one of the largest suppliers and installers of electric hot water systems in Queensland enables us to offer very competitive prices.
We offer a range of hot water heater options
Our range of Electric Hot Water Systems
HOT WATER FAQ