Electrical Testing Services
Test and tag, lights, safety switches
Fallon Solutions electricians provide complete electrical testing services to comply with all industry, state and Australian legislation. Regular testing ensures electrical appliances and equipment is kept in safe working order for your staff and employees. Our experienced electrical team service Brisbane, the Gold Coast, Ipswich, Logan and Moreton Bay regions book your routine electrical testing in today.
Electrical Testing Enquiry
Electrical test and tag
Electrical testing and tagging of portable electrical equipment and appliances. This can be completed at our office or at your site. We can set up a plan to meet Australian Standards where equipment is tested and tagged according to the type of workplace and type of equipment.
We utilise modern testing equipment with barcoding capability, onsite personalized label printing, computerized storage of test results and a register of equipment to reduce costs on future visits.
Safety Switch and RCD testing
Our electricians carry out Safety switch or RCD testing to ensure that these crucial safety devices are working quickly and correctly. Routine testing makes sure that the switch will activate automatically in an emergency situation and identifies any repairs early.
Safety switches save lives.
Emergency lighting testing
Scheduled emergency light testing is required to comply with the Australian standards. Our team can carry out all testing requirements for the safety lighting around your building or workplace. We offer testing for:
emergency lighting
exit lights
evacuation lighting
more
Thermographic testing of electrical equipment
Thermographic testing of electrical equipment, systems and switchboards identifies dangerously hot areas which can cause equipment failure and fires. A specialised infrared camera measures the heat in wiring, components and connections.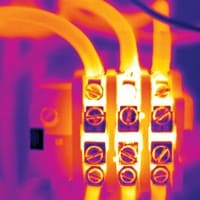 Find out more about electrical thermal imaging .
Lighting audits - Lux lighting levels
With the latest computer design programmes, the sophisticated modelling of lighting design allows for energy efficient designs with far less wasted light and more light where you want it.
These testing services can be incorporated into preventative maintenance programs which incorporate a full range of services.
ELECTRICAL FAQ